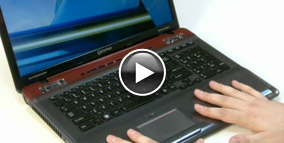 Looking for tons of elite mobile performance? Our brawny yet budget-friendly Qosmio® X770 3D laptop delivers all that—including unforgettable gaming, unrivaled multitasking and killer creativity tools encased in a brilliant new design.
some models include:
Elite Performance
Designed for anyone who insists on the best, this laptop is ready to rip with a choice of 2nd Generation Intel® dual or quad core™ processor. Plus, it comes with the NVIDIA® GeForce GTX 560M graphics processor with up to 1.5GB of DDR5 discrete graphics memory and NVIDIA® Optimus™ technology, punching up performance when you need it, and pulling it back when you don't. Graphics-intensive apps? Bring 'em on.
Truly Brilliant HD Viewing
Don't just watch movies or play games. Live them! Fire up the spectacularly spacious 17.3" diagonal Full HD TruBrite® 3D- ready display and you'll experience color, depth and clarity you've never seen before. Choose a model with stereoscopic 3D viewing powered by NVIDIA® 3D Vision Technology and you'll be spoiled forever, with more in-your-face action and drama than you ever dreamed.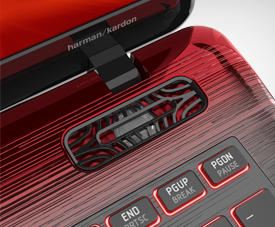 Stand-Out Styling
Just when you thought it couldn't be done, Toshiba ups the ante with our stunning new Fusion® X2 Finish. This two-tone graduated design will turn heads anywhere you take it—or stand out on a desk, at home or the dorm. It's durable. Plus, its unique texturing resists fingerprints and smudging. Throw in a hyper-cool red LED backlit keyboard, and this laptop will stop the world dead in its tracks.
Superstar Entertainment
No other PC takes fun more seriously than our Qosmio® X770 laptop computer. Spin up the optional built-in Blu-ray Disc™ player, gaze into the dazzling screen, and zoom out with unforgettable movies. Enjoy symphonic soundtracks thanks to harman/kardon® stereo speakers and a subwoofer tuned with sound enhancement technologies from Dolby® and Waves Audio. And scale up your standard-def viewing with Toshiba Resolution+® technology in real time.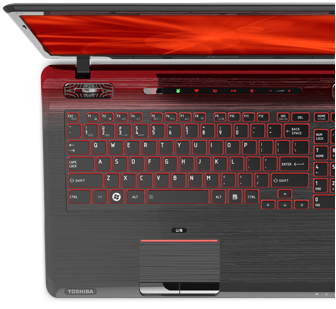 Fast Components
Fast? This Qosmio® laptop series is all about it, starting with up to 8GB of RAM to speed through the most powerful programs or moments of mad multitasking. Tap into up a massive hard drive, speed-up your boot time and get to your files faster with our Hybrid Drive technology. Or plug into the USB 3.0 port and enjoy faster data transfers with your favorite compatible external gear.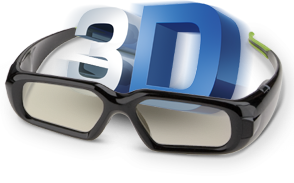 Exciting 3D Extras
Want to add depth to most everything you do? You've come to the right place. This laptop offers stunning stereoscopic on-screen 3D viewing, and a 3D webcam to show friends, family and co-workers just how multi-dimensional you can be.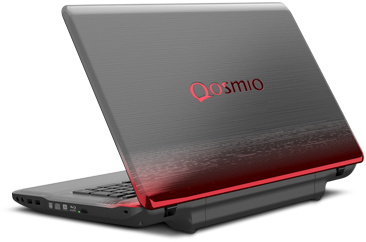 Additional Features available in select models
NVIDIA® Graphics with Optimus™ Technology

Get both the outstanding graphics power you crave, and extended battery time, with performance that's automatically dialed up when you need it, and dialed down when you don't.
learn more

»
harman/kardon® Stereo Speakers with Subwoofer

Enjoy amazing sound reproduction for movies, gaming and more—including booming explosions, brighter shattering glass, deep bass notes and crisp treble.
LED Backlit Keyboard

With the cool-looking keyboard on this laptop you'll be able to keep typing even with the lights down. It's great for working on planes or in a quiet corner of your favorite café.
Blu-ray Disc™ Player

Savor rich, razor-sharp movies done up in full 1080P high-def, together with luxurious surround sound as you've never heard it before.