Buy direct from Toshiba
When you buy direct from us you can customize your laptop exactly the way you want. You can also get models available exclusively at ToshibaDirect.com.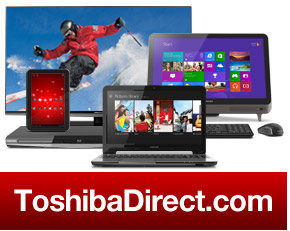 Buy from a Retailer
We're proud to work with fine companies that sell our products. Buy direct from one of the following retailers or visit their online store.
Buy from a Reseller
Need products for your company? Our authorized resellers not only offer excellent Toshiba models but complete business solutions as well to save you money, make you more effective, and provide the best return on your technology investment.