BRING YOUR OWN DEVICE PROGRAM (BYOD) AT A GLANCE
A new era in enterprise productivity is here. Today's mobile, tech-savvy workers increasingly want to choose the device that will make them most effective at work, as well as delivering enjoyment and entertainment at home. Many smart businesses are responding by adopting BYOD (Bring Your Own Device) programs in anticipation of the challenges of Win8 and workforce motivators.
BENEFITS OF THE TOSHIBA BYOD PROGRAM
As a global innovator, Toshiba offers the expertise and secure business-class products you need to put the right program in place, and the right tools in the hands of your employees. We'll help you realize:
Enhanced employee productivity


By letting them choose innovative enterprise class mobility products

Significant savings


With little or no capital expenditure

Higher employee satisfaction


Through exciting, simple to understand BYOD and Employee Purchase programs

Enhanced recruitment


By staying on the forefront of today's technology trends across a broad range of consumer electronic products
WHY TOSHIBA?
A trusted global brand for over 125 years and laptop pioneer for over a quarter of a century, Toshiba truly understands the enterprise. We offer innovative mobility products and services to help companies stay competitive. We are:
A diverse $77 billion Global 100 company at the forefront of technology.
Leading in the field of R&D.
A global manufacturer focused on mobility products.
A PC pioneer holding over 35,000 patents.
Vertically integrated from design to engineering and manufacturing.
Committed to sustainability and the health of our planet.
Partnering with technology giants like IBM & Intel to produce the smartest devices regarding security, power management, patch management & mobile device management solutions.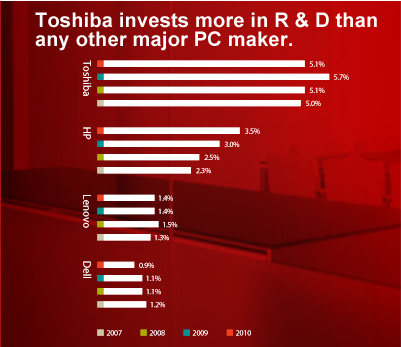 HOW DOES THE PROGRAM WORK?
BYOD requires products, access, software solutions, and support.
BYOD Program Setup, Promotion and Support
At Toshiba, we know your BYOD concerns extend beyond just products. That's why we're proud to mention we have the resources and expertise to help you develop and implement a full-blown, fully customized end-to-end BYOD program.
Employee access you control
We'll set you up with separate ecommerce websites to help your employees order BYOD-qualified devices and EPP merchandise—each customized to match your corporate identity. And to help your employees get the gear they need and want—right now, we also offer great financing and the ability for you to apply a subsidy for current employees.
Internal Promotion
Once you've brought Toshiba onboard, we'll help promote our BYOD offering inside your organization with:
Colorful, effective launch campaigns
Onsite ordering
Employee email blasts
Partnering with channel VARS
Custom SKUs and pricing for employees only
Discounts and promotions on all product lines
Credit card or invoice options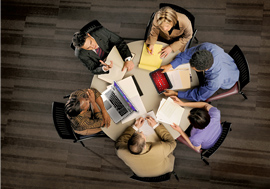 After-Purchase Service and Support
24/7 Product Support


We offer effective, round-the-clock support through a 24/7 online virtual Help Desk, plus a toll-free service number.

Convenient PC Service Options


Toshiba offers onsite repair, plus a nationwide network of Authorized Service Providers (select models only).
Give them what they want with our acclaimed Employee Purchase Program.
Toshiba is also your best source for consumer electronics to help motivate your workforce plus attract and retain the best talent. We offer some of the most exciting, ingeniously designed technology in the world, including HDTVs, sound bars, Blue-ray Disc® players, storage products, and more. Your employees will play as hard as they work.
A BYOD PROGRAM THAT TAKES YOUR PERSPECTIVE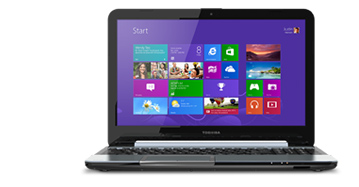 Laptops
Let your Employees choose from a business-class mobile workhorse, desktop replacement PC, or a broad spectrum of powerful, and stylish devices—each fully equipped to get the job done.
Look for:
Touchscreen
A wide range of screen sizes
The latest Intel® Core™ processors
Rich graphics capabilities
Enhanced IT manageability built right in
EasyGuard® durability, reliability and connectivity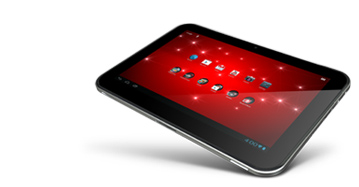 Tablets
Nothing empowers an agile, responsive workforce—or says "cutting edge"—like Toshiba tablets. Especially when the Excite™ tablet goes above and beyond "the average tablet."
Look for:
Amazing power
Sleek durability
Thin and stylish design
More essential ports and features
Long battery life
Great performance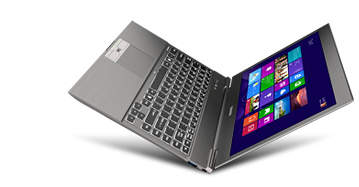 Ultrabooks™
Toshiba sets a new standard for mobility with its razor-thin design, ultra responsive performance and superior craftsmanship. Ultrabook PCs are the perfect choice for those who want to push the limits of style and convenience without compromising on quality.
Look for:
Ultra light at less than 2.5lbs
No-compromise Intel® processing power
Fast boot and Resume times
A long battery life rating
Enhanced security features
Full-size ports (VGA, Ethernet, USB, SD, HDMI)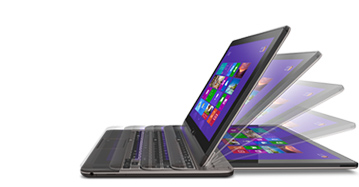 Convertibles
Enjoy the best of both worlds with the performance of an Ultrabook™ and the ease of use of a Tablet.
Look for:
Slim lightweight and stylish design
Corning® Gorilla® Glass touchscreen
A fast, reliable solid state drive
3rd gen Intel® Core™ Processor
Essential ports (Full Size USB 3.0 and HDMI&reg)
MOVE BOLDLY, WORK SECURELY
Select models come with the exclusive EasyGuard® Technology suite to help reduce failure rates, maximize uptime and productivity, and ensure a more effective workforce.
Protect & Fix: Delivering hard-working innovations that help make your hardware perform at its best.
Secure: Safeguarding your precious IT assets and priceless business data.
Connect: Keeping business pros in touch—freely and securely—wherever they go.
Optimize: Helping your people conserve power, increase productivity and make a bigger impact.

Get security and remote manageability right on the chip
Offering advanced security and remote manageability you need, these 3rd gen Intel® Core™ processors with vPro technology provide:
Identity and website access point protection
Confidential personal and business data protection
Stay in control with Toshiba Smart Client Manager (TSCM)—powered by Tivoli® from IBM
Featuring remote, cloud-based endpoint management and BIOS-level innovation, select Toshiba business PCs with TSCM bring you a Mobile device Management (MDM) solution with these important benefits: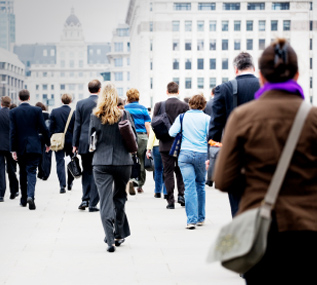 TSCM Power Management
Enables IT to distribute and optimize power settings down to each endpoint to gain maximum energy efficiency—especially for peak consumption periods.
TSCM Patch Management
Lets system administrators easily provide up-to-date patch visibility, control deployments and solve problems—all from a single management console.
TSCM Security
Restricts access to external and network devices by preventing PCs from starting up, logging on and being unlocked unless authorized from the management server.
Need more?
Ask your Toshiba representative about our strategic partnership with IBM, and how their Tivoli Endpoint Manager™ can help you manage traditional, physical and emerging "smart" assets more effectively across your entire network.