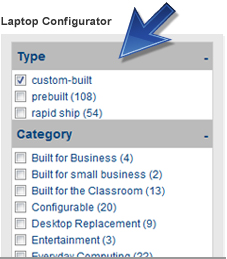 Toshiba offers a configurator that lets you pick exactly what you want, from the size of the screen and hard drive to the processor and even the color. You don't have to settle for a laptop that might have languished on the shelf for months. Online is where you will find the latest laptops shipped directly from us.
With just a few clicks of the mouse you can add and subtract features to get exactly what you want at a price you can afford. If your budget is limited, go with a smaller hard drive, less memory, or a shorter warranty, for example. If you can afford the best rig, get the fastest processor, the biggest software package, and the largest screen. Buying a laptop online is easy and a lot more convenient than trudging from store to store.
Build your own or browse through other prebuilt Toshiba laptops. If you see one that fits the bill, you can skip the configurator and go right to the checkout. Or you can apply one or more of the filters along the left side of the page to narrow your choices. If you get stuck, there's a convenient chat function that will put you in touch with a sales person who can answer your questions in real time.
1. Choosing a Laptop Family
Another way to start your search is within a specific Toshiba laptop family. Let the type of user you are determine which customizable laptop family is best for you.
Basic User

You want a capable PC, but your needs are modest: word processing, email, and of course, browsing the Web. You'll do all that with ease and save money too with our line of Satellite C-Series, which costs well under $500. When you configure it, select the smallest hard drive, the least expensive processor and integrated graphics, which means the graphics chip is built into the motherboard. Integrated graphics are more than powerful enough to run most programs and play many casual games.

Mainstream user

You want a richer computing experience than the most basic model can provide -- but you can't afford to go overboard. Start your customization search in our Satellite L-Series which are slightly more expensive because they offer some extras, such as faster processors, high-resolution webcams, various lid colors, and backlit keyboards.

Premium user

You can afford a top-of-the-line laptop--packaged in a sleek, light unit that won't weigh you down. The Satellite P series offers plenty of processing power (quad-core CPUs are an option) and a bright, high-definition 14-inch screen that's plenty big enough for work and entertainment without adding a lot of weight to your carryon. Wireless Display technology--Wi-Di--lets you easily see the big picture by wirelessly sending what's on your laptop screen to a nearby HDTV. Rich-sounding Harman/Kardon speakers and a sleek case finish round out a class act.

Entertainment fans and gamers

Opt for discrete instead of integrated graphics. Discrete means the laptop has a video card with dedicated memory, which makes movies and 3D games look good and run smoothly. Choose a 17-inch screen and a big hard drive for storing all your photos, music, and videos. With a top-of-the-line entertainment laptop, you not only can play all the latest eye-popping shooters, but special included "upconversion" software will give all your old DVD movies a smooth, near-high-definition look. Are you the creative type? There's plenty of power under the hood to edit your own 3D video and photographic masterpieces. Best bet: the Toshiba Qosmio line of PCs.

The traveler

You don't want to be saddled with an optical drive or large screen. It's more important to have a light-weight PC, a long-lasting battery, and a full array of communications capabilities, including a good webcam and built-in wireless circuitry. Choose from the Toshiba Portégé family of thin-and-light laptops.
2. Inside the Configurator: So Many Choices
Once you've chosen a customizable model that sounds like a good fit, click on the "customize it" button to be taken to the list of components. You'll see a series of components, software, and accessories along with a running total of the cost. Be sure to click on the "What's this" link beside each component for full details if you have a question. Here's a quick rundown of your options:


screen
Choosing a laptop family automatically sets the screen size. For instance, some laptops in the value Toshiba Satellite C-Series have a screen with a 1366-pixel-by-768-pixel resolution. Some Qosmio laptops have 1600-pixel-by-900-pixel 17.3-inch screens. Some of us like highly reflective screens; some of us don't. The Toshiba Portégé family, for instance, lets you choose between 13.3-inch screens with or without the TruBrite® gloss.

processor
Processor names and numbers are always changing, which can make them confusing. But the old rule holds: the higher the processor number, the faster the laptop, although the difference between steps is modest, about 10 to 15 percent. In other words, if you have the extra money in your pocket to buy a faster laptop, upgrading from the base Core i3 to a Core i7 instead of a Core i5 is probably a better bet. When comparing AMD processors, keep in mind that the Vision A8 and Vision A6 series have four processing cores, which makes them more powerful than the dual-core Vision E2 and Vision A4 series.

Operating system
Which version of Windows should you get: home, professional, or ultimate? Consumers get everything they need with the home version. The professional and ultimate versions come with extras for business use, such as automatic backup to a network.

Memory
The more memory your laptop has, the more programs and files you can open and work in at once. You'll need a minimum of 2GB for basic computing. Three or 4GB is ideal for most people, and 6GB or 8GB is a good investment if you'll be keeping your laptop for more than a couple of years.

Graphics
Integrated graphics are just fine for the applications most of us use every day. But if you like to play advanced first-person shooter games or games that feature 3D you'll need to choose a separate graphics card. Hint: If you are very interested in one particular game, check that company's Web site and see the graphics requirement before you buy. Some photo and video editing programs may also demand a discrete card.

Hard disk drive
A 320GB hard drive is large enough to last the life of a laptop for most people. But larger hard drives don't cost much more -- for just a little more money you can get a 500GB hard drive or a 640GB hard drive. The extra room could come in handy some day, especially if you take up a storage-gobbling habit such as digital photography or video. Do you need a solid-state drive, the next-generation storage choice available in some high-end laptops? SSDs, as they are called, are very fast and are more resistant to damage from falls or vibrations, but they do cost more.

Optical drive
Most laptops come standard with DVD burners, a.k.a. DVD SuperMulti Drives. If you want to burn your own custom labels for your discs instead of using markers, a label-making option costs only dollars more. High-end laptops usually have Blu-ray disc drives, which let you play Blu-ray movies as well as regular DVDs. The fanciest optical drive is a Blu-ray burner, or Disc RE, which lets you burn Blu-ray discs, too.

Select design options
Want to break free of standard laptop colors, usually black or silver? Some models let you jazz up their looks with blue, red, or other case colors at no extra cost.

Web camera
Webcams cost very little to add to your laptop and the video quality is great, especially if it's a 2MP camera. By launching a simple video app you can stay in touch with your family when you're on the road. Skype and Facebook offer an easy way to have a video chat.

Wireless options
Wi-fi, also called 802.11b/g/n, comes standard on most laptops now for surfing wirelessly at home and in public hotspots. In addition, you might be able to choose Bluetooth, for wirelessly exchanging information between the laptop and small devices in your office, or Wi-Di, a new option for wirelessly projecting what's on your laptop screen to an HDTV.

Battery
Most laptops are able to use only one size of battery, which comes with the PC when you buy it. But some let you configure the laptop with a longer-lasting enhanced battery for a little more. Enhanced batteries add some weight to the laptop because they are bigger, but they are well worth the investment if battery life is important to you.

Security
Several security features are available on select configurable laptops such as Hard Disk Drive Recovery or a Security Cable Lock Slot. Consider a fingerprint reader, it adds a layer of security and are more convenient than typing in a password. Or protect your personal data with built-in hardware- and software-based security features that let you quickly lock down your lost or stolen Ultrabook™ or laptop remotely with Intel® Anti-Theft Technology.

Software
On a tight budget and don't need a lot of fancy business software? You can probably get by with the free Microsoft Office starter software that comes with your laptop as long as you don't mind looking at ads and using an online email program like Gmail or Yahoo! For ad-free word processing and spreadsheet capabilities, opt for the Microsoft Office home and student package. If you want the convenience of having your own email and calendar program, go with the Microsoft Office home and business bundle. Microsoft Office Professional 2010, the most expensive bundle, adds Access, a powerful database program, and Publisher.

Warranty
Most laptops come with a one-year warranty that gives you troubleshooting for warranty repairs and service. You can extend these services to two or three years for about $100 more. See warranty.toshiba.com for more details.

Accessories
Accessories are the icing on the cake. Here's where you can conveniently add a nice carrying case to your shopping cart, or a wireless mouse for using your laptop at a desk. If multimedia is your thing, add a gaming headset to take full advantage of your PCs big sound without disturbing everyone else, or choose a pair of 3D glasses. It's handy to have a spare AC adapter at work or in another part of the house so you don't have to lug the power cord back and forth. And if your new laptop is a thin-and-light model that lacks a built-in optical drive, you'll probably want to invest in a USB optical drive so you'll have a way to load programs and play and burn discs if the need arises.

3. Build It and Go
Building your own laptop online can save a lot of time and money. Some laptops will arrive in the mail in a few days; others might need a week or longer to be shipped. In any case, when your new Toshiba PC arrives, it will be the laptop you really want.
Visit ToshibaDirect.com and...