Deliver excellence in every classroom—and throughout your whole district—with new education solutions from Toshiba. Drive excitement in the classroom. Help teachers create diverse learning communities. And help administrators and IT pros meet evolving standards, without compromising easy access, flexibility and airtight security.
Expertise you can count on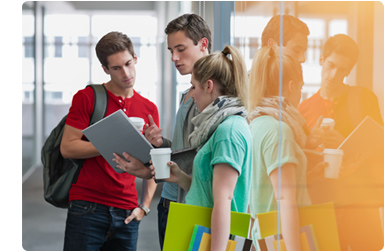 Expertise you want
Today's digital technologies are expanding the world of education—pushing the limits way beyond the traditional classroom. Not only are these innovative solutions impacting teaching and learning techniques, but also school administrative priorities and even parent participation. That's why it's critical for education professionals to partner with companies who are knowledgeable and experienced. Experts like Toshiba.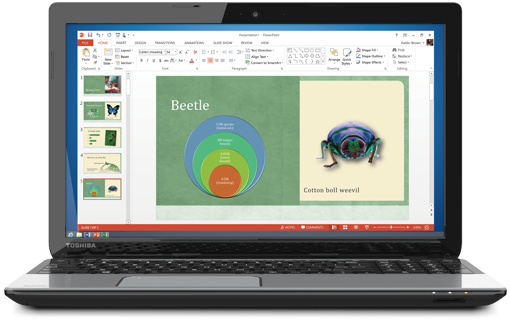 Experience you can trust
With more than 20+ years of experience providing laptops for schools and having pioneered breakthrough programs such as Anywhere Anytime Learning, Toshiba is proud to continue expanding the boundaries of the classroom with our suite of education solutions. By partnering with companies that offer best-in-class solutions, we can help schools reach the highest marks of achievement and ensure student success.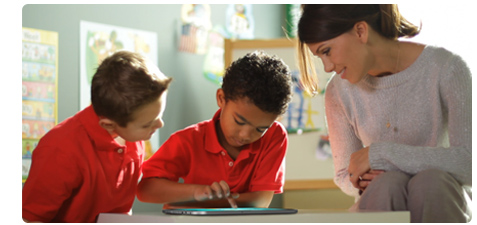 Support you can count on
Partnering with Toshiba is just the start of a valuable long-term relationship. Whether you're an IT pro in charge of a single K-12 school—or an entire school district—make Toshiba your first choice. We offer the cutting-edge technology solutions, market expertise and award-winning support that can keep your school way out in front.
Smart Collaborations for Smarter Education
Create

The most powerful Office yet, with smarter versions of their favorite applications and new cloud services that connect them to their documents and settings when and where they need them.


Word 2013
Excel 2013
PowerPoint 2013
OneNote 2013
Outlook 2013
Collaborate

With ePals resources, the world truly is the classroom. Teachers and students can create collaborative work groups and learning environments with peers from their own school, or in another country, safely and securely.


Students connect with peers in collaborative work groups and topic-based learning centers.
Teachers can access and test collaborative tools, engaging instructional ideas, common core-aligned resources and more.
Validate

Thanks to SOLARO, you can provide age-appropriate curriculum-aligned lessons, activities and exercises—and manage it all with an easy-to-use interface. Best yet, you can ensure that every lesson plan and curriculum aligns with the new US Common Core requirements, as well as state-level educational standards.
Doing

Bing is for doing. Students are always on-the-go, and searching to get things done. And Bing makes it even easier with features designed to help find whatever you need, wherever you are. Whether in school or at home, Bing quickly gives you results you can trust—so you can spend less time searching and more time doing.
Protect

Defending your school's digital community against viruses, malware, spyware and unauthorized visitors is crucial to a thriving digital campus. Protect student assets, personal information and other school resources with Symantec's Norton Internet Security at school or in the home.

Learn More. Contacts Us Today.
To learn more about our education programs please contact your local Toshiba representative today.
How to Buy Toshiba Products

When it's time to buy, there's definitely more than one way to get there. And we've made them all incredibly easy for you.

Call Your Toshiba Representative Today
See the full product line up