Types of Laptops
The world of laptops is a smorgasbord of sizes, styles, feature sets, and options. But the variety divides fairly neatly into a limited number of basic categories. Here's an overview.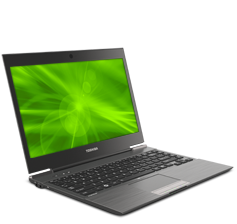 Lightweight
Sometimes referred to as ultraportable or ultrathin, the lightweight laptop is twice the size of a netbook, yet it still feels light and easy to carry. This category offers a perfect balance of performance and portability, especially for frequent flyers. These models are plenty fast for most types of work and have a mid-size screen that's comfortable to work on. Most even have built-in DVD burners, which netbooks do not. This category can be expensive if you order the biggest hard drive or fastest processor available.
Key Characteristics:
13.3 to 14-inch diagonal screen
Less than 4lbs (Ours start at 3.2 lbs)*
Processor types: dual to quad-core*
Up to 6GB DDR3 system memory
Shared video memory
Choice of 250GB or bigger hard drive; some even
come with a 128GB solid-state drive
Built-in optical drive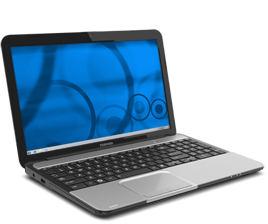 Everyday Computing
Also called a midsize or mainstream notebook, this category falls into the broad middle in terms of weight, screen size, technology, and price. A few models have top-shelf features such as a 17.3-inch diagonal widescreen or powerful processor. The everyday laptop has enough muscle to do almost any task, but it's too heavy and too short on battery life to make a great travel laptop.
Key Characteristics:
15.6-inch, all the way to 18.4-inch diagonal screen
Starting at 5 lbs*
Intel® or AMD Dual-Core™ processors
2GB to 6GB DDR3 system memory*
Shared or dedicated video memory
Up to 1TB hard drive*
Built-in DVD burner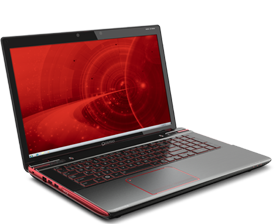 Desktop Replacement
This portable delivers a full PC experience. It offers a comfortable keyboard, large hard drive, a huge screen and great system memory. The stereo speakers are loud and rich, plus you'll find exciting emerging mobile technology such as Intel Wireless Display, which lets you play your laptop's picture on your big-screen HDTV without wires. With all these features, a desktop replacement is too large for comfortable travel, and battery life is very short.
Key Characteristics:
17.3-inch diagonal screen
Intel® or AMD dual- to quad-core processor
4GB to 8GB DDR3 system memory
Dedicated graphics
7200-rpm and up to 1TB hard drive
Blu-ray™ disc burner*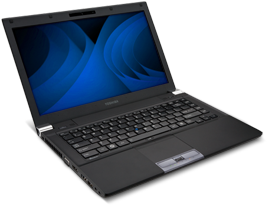 Built for Business
Though this category of laptop doesn't need to handle the demands of gaming or HD movies, it does need a processor that can juggle all the apps of an office suite. It also should have long battery life to hold its charge during extended stretches on the road. Wi-Fi (802.11n) is, of course, essential, but you should also consider wireless WAN so you can stay connected away from hot spots. Robust security features to safeguard sensitive data are also must.
Key Characteristics:
13.3 to 17.3-inch diagonal screen
3GB RAM or more
Intel™ or AMD dual- to quad-core processor
Data security features
Standard limited warranty
Fingerprint or smart card reader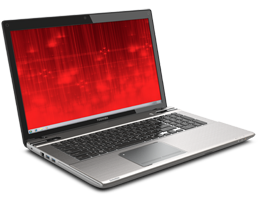 Entertainment
These media-centric laptops can serve as the center of your digital-entertainment world while also helping you power through schoolwork in style. Thanks to their awesome built-in speakers with sound enhancement technologies and Blu-ray™ player you'll be able to enjoy all of your movies on-the-go. They offer beautiful screens and large hard drives so you can easily store your digital entertainment files. Full of features and yet powerful, they'll help you get things done.
Key Characteristics:
15.6-inch diagonal screen or larger
4GB RAM or more
500GB hard drive or larger
3rd Gen Intel® Core™ i3 or AMD Phenom II processor or better
Blu-ray™ drive
Quality stereo speakers

*Depending on selected models