Intel® and AMD® processor guide — Choose the processor that's right for you
Intel® mobile processors
Whether you're a basic user sending email or an extreme gamer immersed in intense online action, great mobile computing starts with an Intel processor inside. From the reliability of Atom™ to the high performance, great battery life and advanced connectivity of Intel® Core™ i7 processor technology, Intel's processors give you the freedom to do everything while you go almost anywhere.

3rd Generation Intel® Core™ i7

Visibly smart performance starts here
Whether it's HD or 3D, multitasking or multimedia, this processor can handle it all. Its top-of-the-line adaptable speed and responsiveness make the 3rd generation Intel® Core™ i7 processor the ideal choice for visibly smart performance at its best.
Perfect for:

Multi-tasking
Intense Gaming
Editing and sharing videos in a flash
Immersing yourself in 3D

3rd Generation Intel® Core™ i5

Visibly smart performance starts here
Our most popular family member adapts and looks better than ever. The 3rd generation Intel® Core™ i5 processor delivers more performance automatically for a more responsive laptop experience. That's visibly smart performance with a boost.
Perfect for:

Multi-tasking
Gaming
Creating and sharing home movies
Watching movies

3rd Generation Intel® Core™ i3

Visibly smart performance starts here
As the first level of Intel's latest processor family, the 3rd generation Intel® Core™ i3 processor makes a fast, responsive, and visually immersive PC experience available to everyone. Start here for visibly smart performance.
Perfect for:

Multi-tasking
Casual Gaming
Browsing the internet on the go
Staying in touch via emails or chats

Intel® Pentium®

The reliable choice for more than 15 years.
Run your favorite office and educational software, explore the Internet, stay in touch with friends through social networks and enjoy PC games – all with the reliability you'd expect with Intel Inside®.
Perfect for:

Staying in touch with friends an family via emails
Downloading music
Sharing pictures online

Intel® Celeron

Good value in PC processors starts here.
Enjoy the Internet, send email to friends, create documents and more. If you're looking for quality and value in your first computer, look no further than the Intel Celeron processor.
Perfect for:

Browsing the Internet
Creating documents
Doing homework
Emailing friends and family
AMD® mobile processors
AMD's line of processors built-into our Toshiba PC allow you to handle simple day to day activities such as sending and receiving emails or browsing the web. But they can also help you handle more intense applications such as HD video editing or extreme gaming. Which ever one you choose, AMD processors give you the freedom to do it all from virtually anywhere.

AMD Vision A10

Most powerful APU ever
Get the ultimate HD entertainment with the most powerful APU ever, so you can create more and wait less.
Perfect for:

Run multiple programs at once without slowing down
Experience the best HD entertainment with breathtaking visuals on your notebook, HDTV or media device
Edit and share HD photos and videos in record time
Unbelievable 3D gaming and stunning Blu-Ray 3D movies

AMD Vision A8

Maximum Computing
Get blistering dual graphics capability, quad-core processing, outstanding HD and killer 3D-gaming with AMD's fastest APU – the AMD Quad-Core A8 Series Accelerated Processor.
Perfect for:

Play lifelike 3D games with dual graphics enabled
Enables the ultimate 3D Blu-ray and HD entertainment
Run the most demanding applications
View multiple HD monitors simultaneously

AMD Vision A6

High-Performance HD & 3D.
Quad-core speed and discrete-class graphics give you the power to create and edit premium HD entertainment. With VISION A6 Technology featuring the AMD Quad-Core A6 Series APU you can video chat, surf the Web and listen to music at the same time
Perfect for:

Edit HD videos with quad-core power
Multi-task faster
Edit HD Videos
Watch Blu-ray 3D movies
Play DirectX®11 games in HD and 3D
Video chat in HD

AMD Vision A4

Play and Edit HD
Do more of what you love with VISION A4 Technology featuring the innovative AMD Dual-Core A4 Series APU. Get near HD-quality from standard DVDs, play casual games and convert video files to mobile devices easily.
Perfect for:

Edit HD photos
Watch standard DVDs in HD resolution
Play DirectX®11 games
Convert video files to mobile devices
Display your laptop content on your TV
AMD Vision E2

Smart PC
Enjoy the smooth streaming of rich online HD content and rich, crystal-clear playback of all your favorite movies with VISION E2 Technology featuring the innovative AMD Dual-Core E2 APU.
Perfect for:

1080p-HD video playback
Run everyday entertainment & productivity software
Enjoy photos, music, games and DVDs
Rich social media and fast Internet browsing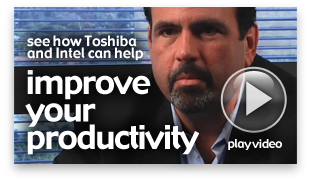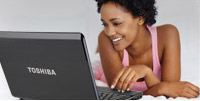 Toshiba Laptop Buying Guide
All you need to know about laptops
In the market for a new laptop? It's a great time to buy. The actual process of choosing the right model can take some serious time and research. We've put this buying guide together to help you through that process.
read more
»