Give your media a facelift
Resolution+ DVD Upconversion Technology
Together, new high-def screens and high-res digital media can make your life much more entertaining. The downside is older movies, photos and video clips might look fuzzy and less than ideal. But the Toshiba DVD Player software offers an easy fix with new Resolution+ DVD upconversion technology. It's our exclusive innovation that takes standard definition DVD content and upscales it so you get a sharper, more vibrant picture that looks and feels more like HD.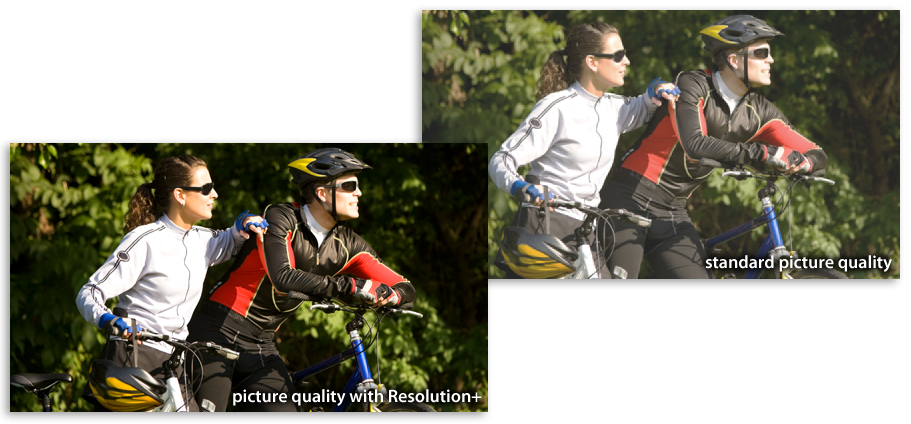 Add hi-def to older DVDs

It's great you've equipped your world with TVs, monitors and laptops with high-def display capabilities. But no matter how sharp the screen, your collection of standard-def DVDs is bound to look grainy. Resolution+ solves that problem by breathing new life into your favorite flicks.
Hone your home movies

Camcorders have come a long way over the years, which means those old vacation and graduation DVDs could look even better the next time you want to show them. Resolution+ gives your home movies a facelift so you can sit back and enjoy them on your HDTV.
Get in on our secret

What's behind Toshiba's Resolution+? Our exclusive upscaling algorithm designed to deliver contrast and color enhancements in real-time. Utilizing the advanced graphics processing capabilities of your laptop, standard definition video is converted from a low to a higher resolution so you can enjoy your DVD movies with sharper image clarity and contrast on your HD display.