USB Sleep-and-Charge Port — Quench your thirst for power.
Simplifying your life? Now Toshiba laptops can do it in their sleep, thanks to USB Sleep-and-Charge ports. It's the easiest way ever to charge your smart phone, MP3 player or other portable electronics, even when your laptop is turned off. Because, believe it or not, sometimes you won't want to boot your laptop all the way up or keep it all the way on.

watch the animated demo
»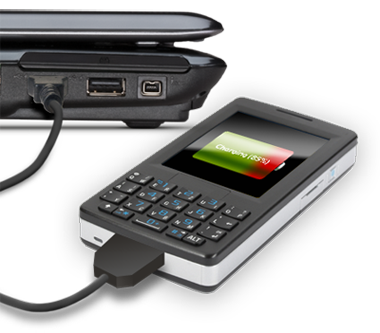 Plug into a portable power station
Devices that are USB powered are so essential, yet so needy when it comes to power. But now you can keep them all happy, helpful and showing full bars with a Toshiba laptop that offers USB Sleep-and-Charge ports. And your notebook doesn't have to be awake to do it. Now that's convenience!
You're well connected
Select Toshiba laptops offer up to four convenient USB Sleep-and-Charge ports. So even if you've hooked up an external mouse and keyboard, you'll still have options for synching and charging your portable electronics-without the expense and hassle of adding an external USB hub.
Have ports, will travel
USB Sleep-and-Charge ports make traveling easier too. When you and your gadgets come back to the hotel room feeling a bit drained, just plug in and charge them right back up while you and your laptop are asleep. As for those bulky AC adapters that came with your gear, you can leave them back at home.