"Super" laptops
When shopping for an Ultrabook look for words such as "super-thin," "super-light," and "durable." That's how manufacturers are describing the sleek new laptop, which measures less than an inch thick and weighs less than four pounds. The Portégé® Z930, for example, is just .63 inches thick and weighs 2.5 pounds, including a 13.3-inch high-definition LED backlit screen. For sturdiness, a honeycomb-like inner ribbing reinforces the unit's magnesium alloy casing.
These types of computers have a solid-state drive (SSD) for storage instead of a hard drive. Because they have no moving parts, SSDs keep the laptop cooler, thus fewer fans are needed and there's less noise. SSDs also make the Ultrabook nimble. With the SSD's flash memory paired with Intel's Rapid Start technology, the Ultrabook can resume to the desktop in seconds, compared to a minute or longer for many Windows PCs*. This lets you get to work a lot faster, saving time, frustration, and battery life.
Battery life for an Ultrabook is longer than your average laptop's: from five to eight hours, depending on your work and entertainment habits. The 2nd Generation Intel® Core™ processors that Ultrabook uses also reduce power consumption. Ultrabook systems come equipped with a choice of an Intel Core i3, i5, or i7 processor. These chips optimize the best battery life possible while still offering enough performance to get most types of work done, whether you spend most of your time social networking or editing high-resolution digital photos.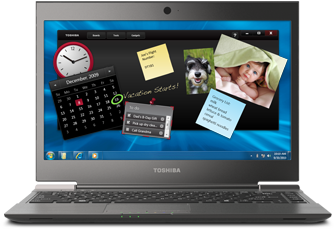 Full laptop features
Despite their wafer-thin cases, these laptops come fully loaded with the features you've come to depend on in a conventional laptop. They use the Windows operating system and can run all your favorite programs, including most games. (3D games are about the only exception because they generally require a dedicated graphics card, and the Ultrabook is equipped with an integrated graphics system instead.) All the usual laptop connections are present, including two or three USB ports, an SD memory card slot, Wi-Fi®, and a webcam.
Intel Wireless Display (WiDi) technology is also built into select Ultrabook models. WiDi lets you display what is on the laptop's screen on a nearby HDTV without connecting the two together with a cable. This lets you project personal content, online TV shows, home movies, home videos, and more on a big screen.
The only standard laptop feature Ultrabook systems lack—because they are so thin—is an optical drive. For burning discs and installing software you can buy a USB optical drive for about $60. However, integrated DVD or even Blu-ray drives could become available in the future as Ultrabooks compress more portable features into less space. Future Ultrabook systems also will be even lighter, and some might be convertible--that is, capable of switching from a standard clamshell design to a full tablet mode with touchscreen.
An ultra future?
These PCs set a new standard for laptops: lighter and thinner than ever, and ready to give you quick and convenient access to your files and online life. With their mainstream prices, slim designs, good performance, and responsiveness, this Ultrabook category promises to be the next must-have laptop.