Built on Windows 7 Bedrock
You'll love the new look and feel of Windows 8. You'll also be glad to know it's built on the rock-solid security and reliability of Windows 7—with innovations that make it even better for a new generation of PCs. Your familiar desktop is still there. And you can sign in using a password or gestures if you have a touch screen.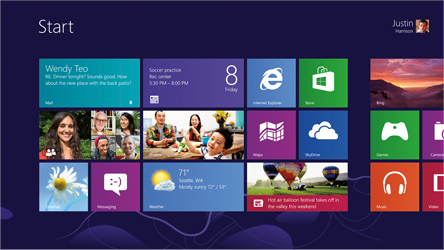 New Start Screen
Your Toshiba Windows 8 PC delivers more fun and freedom right from square one. Look at the Start screen. It has all your favorite stuff in one place—contacts, calendar, websites, the weather, playlists, photos and more. The tiles are updated in real time. Everything's organized the way you want. Plus, you can share and connect in just a couple of clicks.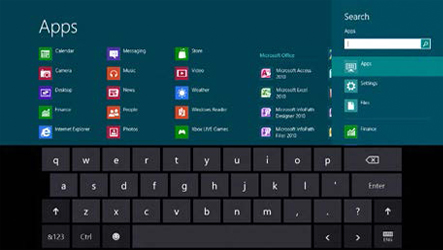 Touch, Keyboard and Mouse
Whether you're browsing apps with touch, or creating a project that requires the more productive horsepower of a traditional mouse and keyboard, Windows 8 makes it easy. You use whatever works best, whenever it works best. On new, touch-enabled PCs, the things you can do with a mouse and keyboard are just as easy to do with touch. You can switch between apps, organize your Start screen, and pan and zoom. With the touch keyboard, you can navigate, type, and interact on the go. Because you work in different ways depending on which app you're using, Windows 8 makes it easy to use whichever method works best.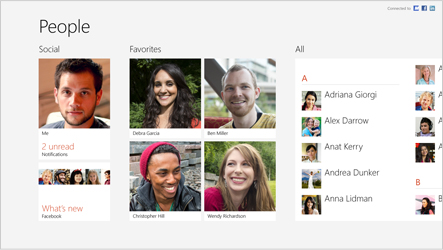 Cloud-Based Convenience
Because Windows 8 is cloud-connected, your life has a new silver lining. Sign in to your Microsoft account on any Toshiba Windows 8 PC, anywhere (you have an internet connection), and you're instantly connected to the people, files and settings you care about. Your Start page, themes, preferred language, browsing favorites, photos and docs—they're all there. You can jump right to your Email account, Calendar, Toshiba Book Place and other accounts, too.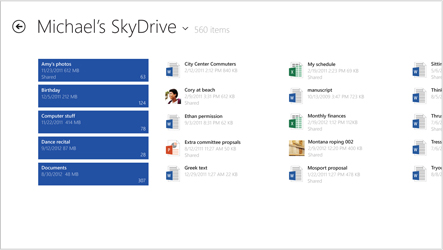 Built-In Apps
Apps are the heart of Windows 8. They integrate smoothly with the services and accounts you may already have to put you in touch with your people, events, mail, photos and documents. Mail lets you see all of your accounts in one place. The Photos app pulls all your pictures together. Calendar combines the ones you have. And that's just the start.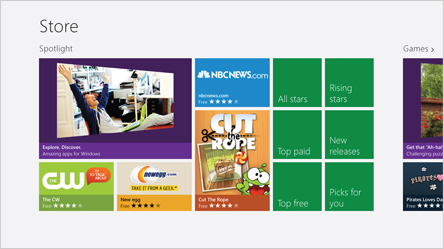 The Windows® Store
Want more apps? Who doesn't? In the Windows Store, you can search for and browse thousands of them—without getting lost. You'll see interesting ones featured on the front page, or grouped in easy-to-find categories, like New Releases, Top Free and Rising Stars. Plus, they all work together to make sharing content between them a breeze.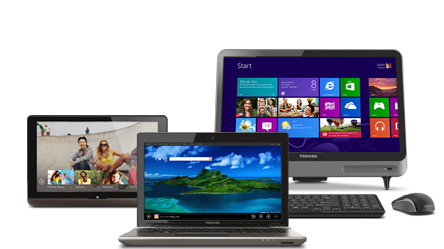 Pick Your PC
With Windows 8, you don't have to choose between a Toshiba Ultrabook, laptop or All-in-One Desktop. Because it works beautifully on all three. And since it's cloud-connected, you can start a conversation, work task or creative project on one device and easily carry it over to another, just by signing into your Microsoft® account.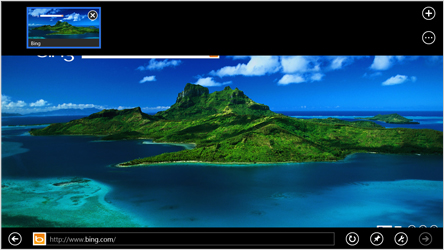 Internet Explorer 10
Reimagined for Windows 8, Internet Explorer 10 is faster, more fluid, and even more secure than its trusted forerunner, thanks features to SmartScreen Filter and Tracking Protection privacy controls. You'll enjoy more Web and less browser—with edge-to-edge screen coverage, plus navigation controls that appear, then vanish when you want them to.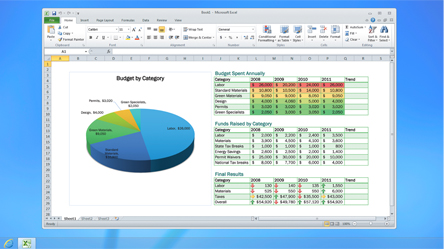 Windows 8 for Business
Today, people want fast, secure access to their work files, colleagues and resources—anywhere, and with any PC they choose. Windows 8 is here to help. It automatically uses Wi-Fi® hotspots when available, and supports 3G and 4G communications (if the feature is available on the PC), while providing enterprise-class security. Net-net? You'll connect and find what you need faster and easier.