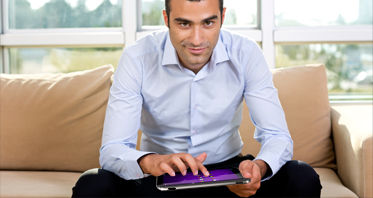 Get Access to Digital Content and WiFi
If you're not already enjoying the benefits of digital content, it's time to start. With a reliable WiFi network in your home, you can use online services to stream movies, music, and TV shows to any room in your house. Almost any WiFi-capable device can be enabled to stream digital media, either by downloading an app or using a built-in program.
Online services like Netflix, Hulu Plus, Spotify, and Amazon Prime all offer very inexpensive memberships, allowing you access to thousands of hours of high quality, current movies and TV shows. Some services, like Vudu and Flixster, also let you download digital copies of movies, songs, and TV shows on a per-item basis and keep them stored online or on your hard drive, ensuring permanent access.
Additionally, a lot of us have amassed collections of music, movies, or TV shows that we keep stored on discs, external hard drives, or computers around the house. Gathering and consolidating that content is going to be a key step in connecting your home, and as a bonus, will also yield a more manageable, permanent solution for maintaining your media library.
Determine Your Devices
An ideal home entertainment setup utilizes all of your gadgets' unique features in engaging ways. A tablet, for example, has very different benefits than a big screen TV. Here are some devices you can consider integrating into a connected home, and the best ways to showcase their strengths.

Laptops & Ultrabooks

Sleek, light, and fast, these devices are the workhorses of your network. Using an Ultrabook like the Portégé, you'll have more than enough speed and storage to surf the Web for content, download or stream video, engage with others online, play graphic-heavy HD games, organize your content, maintain your media accounts, and more.

Cloud TV

The ultimate entertainment portal, a Cloud TV offers a variety of Internet-connected features. Toshiba's new line of Cloud TVs incorporate live television, email access, calendars, video streaming apps, smartphone and tablet synchronization, and more – going well beyond the capabilities of current Smart TVs. Connected to a home network, a Cloud TV becomes a powerful centerpiece for sharing the media that you love.

A Blu-Ray player and media box

A media box connects your TV to your streaming services, and a Blu-Ray player is essential for those who have built up a sizeable collection of Blu-Rays and DVDs. Toshiba's Symbio combines both of those functions, with apps for online content, web browsing capabilities, and a Blu-Ray player all built into one convenient device. Plus, the Miracast feature on the Symbio lets you stream video directly from your mobile device, even without a network connection.

An All-In-One Computer

This powerful desktop machine with a large, high-res screen can handle any computing task, including seeking out and downloading new content for your home network. Entertainment-optimized all-in-one units, like Toshiba's LX series, also offer immersive 3D sound and crisp HD visuals, making them great secondary screens for the kitchen or bedroom.

Tablets

These fun, portable, and infinitely handy gadgets are excellent secondary devices to use in concert with a TV show or movie, and can also function as a great remote control. Toshiba's Excite tablets are among a small group of multifunctional mobile devices that also offer an HDMI connection, letting you send HD video to your TV.
Set Up Your Personal Cloud
Now that you've collected your media and selected your devices, it's time to set the anchor that keeps it all connected. A Personal Cloud Box, like the Canvio from Toshiba, is the most essential part of a connected home, acting as the hub of your entertainment ecosystem. The Canvio is a storage device that's integrated directly into your home network, putting all of your stored content in a central location, and making it instantly available and transferrable to any device.
Once you've gathered your favorite movies, music, and other digital content together, you can consolidate it onto your Canvio. That way, it's easy to sync it up with your other devices to maintain continuous access to your content, just as though it were stored right on the device that's playing it.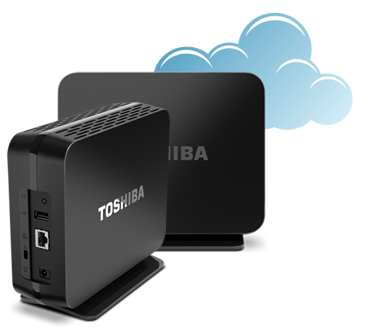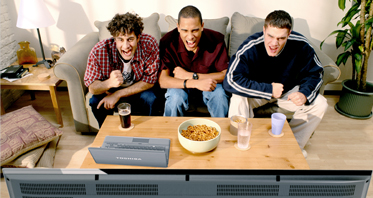 Enjoy!
With your personal cloud device, you can access your media in any room. With online streaming services on your home WiFi network, you can pause and play nearly unlimited content, and easily move it from one room to another. Your movies, music, and shows will always be just the way you left them, no matter which device you use. And the same goes for games -- whether you're playing somebody on the other side of the house or the other side of the world, your cloud-connected home makes it easy to pause, move around, and pick up gameplay right where you left off.
Once you've built a connected home, you're no longer restricted to the content you can contain on your bookshelf, and you're no longer tethered to the room or device that plays it. New and improved ways to discover, experience, and manage your media have made it possible for fresh content to follow you anywhere. The tools to construct this ecosystem are all within your reach. All that's left to do is bring them together.
Toshiba's range of cloud TVs, media boxes, computers, tablets and personal cloud boxes can help you build your home network one step at a time. Get started on syncing up your home today.