4x the Resolution and Detail vs.1080p Full HD

What is 4K Ultra HD?
"Ultra HD represents the new pinnacle of home theater image quality and Toshiba is already leading the way."
1080p Full HD (1920x1080) has been the highest benchmark for High Definition televisions. And now everything is about to change. 4K Ultra HD doubles the vertical and horizontal pixels for 3840x2160 resolution, over 8.29 million pixels (8MP). With four times the pixel density of Full HD, the increased detail and picture quality achieved with 4K Ultra HD creates a stunningly detailed visual experience and noticeable difference that redefines expectations in super-large screen home theater performance.
Award-winning Technology
Toshiba 4K Ultra HD TVs were recently shown at CEATEC in Japan and CES in the United States, two of the leading consumer electronics shows in the world. At both events, Toshiba 4K Ultra HD TVs received rave reviews and won best-in-class awards: the CEATACT 2012 Grand Prix Award for Innovation and the HD Guru – Best 4K Ultra HD TV at CES 2013. This second-generation CEVO™ 4K Processor moves Toshiba ahead of the rest and showcases our commitment to superior Ultra HD image processing.
Beauty is all in the details, and the L9300U Series Ultra HD TVs combine an all-new ultra-slim design, with gun metal finish and elegant frame stand, advanced imaging algorithms to maximize the resolution, color depth, with our High Bright CineSpeed® Panel with Local Dimming. And with our Trivector® 2D to 3D conversion, you'll enjoy any 2D content instantly in immersive 3D. Once you experience our stunning 4K Ultra HD TV resolution, and select the super-large screen sizes: 58", 65" or 84" that fits your home, you'll be ready to invite everyone over and showcase the ultimate home theater experience.
Upscale to 4K Ultra HD
Most people have only experienced 4K picture quality in a movie theater showing Digital 4K Cinema. Today many independent and major studios are expanding the number of new movies filmed digitally and shown in 4K theaters. And at home, Blu-ray™ discs in 1080p Full HD have been the highest resolution experience for most video enthusiasts.
The CEVO™ 4K Engine incorporates Toshiba's newest Color and Depth Adaptive Resolution+ and Texture Restoration algorithms creating enhanced image resolution, lifelike color saturation and incredible picture depth and detail. And 4K images from 2K sources such as Blu-ray™ discs look amazing. Now anyone can enjoy their current HD videos, movies, TV shows, console and pc games, even digital photos from DSLRs all upscaled to near 4K quality. And with the added benefit of pristine quality from 1080p Blu-ray™ discs upscaled to near 4K, home theaters enthusiasts don't have to wait for 4K native content; they can enjoy their favorites from the moment the Toshiba Ultra HD TV arrives in their home.
"The best image processing will create the best picture quality and Toshiba is introducing the second generation UltraHD processing in 2013 with the advanced CEVO 4K Quad+Dual Core Processor."

Toshiba's CEVO™ 4K Engine is the heart of the new L9300U Series Ultra HD TVs, and the advanced technology that sets Toshiba apart from all others. CEVO™ 4K includes both a quad-core CPU and a dual-core CPU for real-time video processing that creates clean, crystal clear, breathtaking 4K image quality.
Powerful Image Enhancement Technology
In addition to Ultra HD image processing, the L9300 Series includes additional technologies to enhance picture quality, including ClearScan™ 240Hz that creates clearer and smoother fast motion video. And CQ Engine™ technology for superior picture quality controls, including Edge Enhancer, Dynamic Gamma, Color Master™ and Expert Mode Calibration Capability, and new UltraClear Dynamic Noise Reduction to create cleaner images without sacrificing image detail.

Offering a smarter connected experience, the L9300 Series includes advanced Cloud TV functionality. Cloud TV takes the connected experience to another level by offering easy, personalized content discovery and acquisition, including streaming news; better mobile device interactivity; practical social interaction services; server-based upgradability and much more.
The Toshiba L9300U series of Ultra HD TVs will be available in 58", 65" and 84" super-large screen sizes. With four times the resolution of Full HD televisions, even our largest 84" 4K Ultra HD TVs gives you the freedom to get closer to the screen, without seeing noticeable pixels for an even more immersive ultrarealistic front-row experience.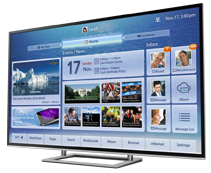 Coming Soon to a Home Theater Retailer Near You
Get ready to experience the complete L9300U Series of 4K Ultra HD TVs and create your ultimate home theater. Available this Summer 2013.