Connections
An HDTV is useless unless you can connect it to an image source, whether it's a rooftop antenna or a streaming media server. In general, the more options, the better. Here are some details to consider about the connections on your dream HDTV.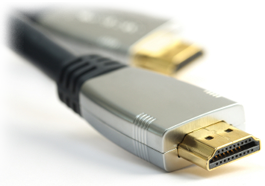 Video: HDMI®, Component, and More
If you're using a home-theater surround sound system as your entertainment hub, then you may need only one video connection on your television so that you can connect it to the sound system. But if the HDTV is to be the center of your configuration, then make a list of the devices you want to connect; for instance, set-top box, DVD or Blu-ray player, game console, network media player, and computer. Unless you use a switcher (which can create a new set of challenges), you'll want to make sure that you have a connection for each one.
The best connection to use is HDMI®, as this digital standard offers the best fidelity and highest resolution. HDMI® stands for High Definition Multimedia Interface, and it uses a small, flat plug. The single cable can also carry surround signals, which reduces cable clutter by eliminating the need for separate audio cables. Newer devices support the more capable HDMI® 1.4, but this version is backward compatible with HDMI® 1.3 connections. You can also get an inexpensive cable that will connect an HDMI® port to a personal computer's DVI port.
Your second choice for hi-def images is component video, an analog connection that uses three wires ending in red, green, and blue RCA connectors. A VGA connector can be a useful way to connect to a computer or laptop that doesn't offer a DVI connection. Use S-Video (a DIN multi-pin connector) or composite video (a yellow RCA connector) for standard-resolution devices such as older DVD players or camcorders.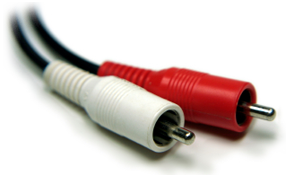 Audio
If you use a home-theater surround sound system, then you don't have to be as concerned about the audio connections to your HDTV. You'll just need one from the TV to the home-theater system for content that originates on television (such as broadcast content through an attached antenna). Otherwise, you'll need sound connections for all the devices that you might want to attach. Remember that some HDMI® connections carry sound, so you may not need a separate audio connection for devices that use an HDMI® cable.
The most common audio connections are standard RCA plugs for analog audio. Usually these are used in pairs—marked white and red—for left and right stereo channels. In some cases, a connector may use a single stereo mini plug, the connector commonly used for headphones and earbuds, instead of two RCA plugs.
The other type of audio connection is digital SP/DIF, which can carry surround sound channels in a single wire cable ending in a single RCA plug or a fiber-optic cable.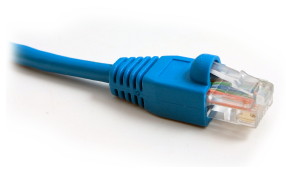 Networking
Connecting your HDTV to a home computer network lets you enjoy movies, music, and video from your PC or networked hard drive. HDTVs that connect to the Internet offer access to video-streaming services like Netflix® and music streaming-services like Pandora®. Access is commonly provided through on-screen apps or widgets. In some cases, you can download new apps or widgets as they become available. Choose an HDTV that supports the streaming services you want to use—or be prepared to buy a network media player, which is likely to cost $100 or less. Some Blu-ray players and game consoles also enable Internet connectivity.
A few HDTVs offer video chat so you can communicate visually with faraway friends and family. Typically, the camera and microphone needed for this function are sold separately. Keep in mind that it's simpler to use a TV with built-in video chat support than to connect your computer to your HDTV.
Network connections can be wired or wireless. A wired connection, which uses a standard Ethernet cable, is fast and reliable, but you have to run a cable to the room with the television. Wireless connectivity eliminates the expense and hassle of wires, but it may not give you the bandwidth you need for streaming high-definition content.
Other Features
Today's HDTVs offer a variety of other conveniences you may want to consider.
Docking Station
Some HDTVs provide a docking station for personal media players, especially iPods and iPhones. These let you play content from the device on your TV, and most recharge the player at the same time. This capability is especially useful in homes where space is at a premium.
USB Port
A USB port lets you connect data devices such as digital cameras. Depending on the TV, USB can also let you add wireless connectivity through a network adapter.
Memory Card Slot
Similar to a USB port, a memory card slot lets you insert a card from your digital camera or personal media player and play the content on your television. This can be a great way to display a slideshow of family photos. Most sets with this feature accept a wide range of card formats, but you should make sure that the one used by your camera is supported.
Built-in DVD or
Blu-ray Player
HDTVs that include a built-in DVD or Blu-ray player can be convenient if you want to put your TV in a tight space where additional components might not fit.